(By no means a complete list all of the many Pit Bike events across America)

7th Annual AMA/Maxxis MiniMotoSX (2010)
Partially Sponsored by MiniMoto magazine
- - - The Biggest Pit Bike Race in the World - - -
Las Vegas, NV - Orleans Arena
Fri., May 7
Doors open to public: 7:30p, Racing starts: 8:45p (Race 14 is MMSX World Championship!)
mimimotosx.com


Masters of Mini Northeast Pit Bike Racing Series (2009)
Major Sponsor: BBR Motorsports
- - - One of the Premier Pit Bike Series in the Country - - -
ROUND 1
Milford Riders, CT
Sat., April 25
Sign up starts at Noon, Practice 4:00p, Racing starts 4:00p
ROUND 2
Crow Hill, MA
Sun., May 17
Sign up starts at 9:00a, Practice 11:00a, Racing starts 12:30p
ROUND 3
Rocky Hill, CT
Sat., May 30
Sign up starts at 9:00a, Practice 11:00a, Racing starts 12:30p
ROUND 4
Crow Hill, MA
Sun., July 12
Sign up starts at 9:00a, Practice 11:00a, Racing starts 12:30p
ROUND 5
Marshfield, MA
Tues., Aug. 25
Sign up starts at 1:00p, Practice 3:30p, Racing starts 5:00p
ROUND 6
Rocky Hill, CT
Sun., September 27
Sign up starts at 9:00a, Practice 11:00a, Racing starts 12:30
ROUND 7
CYCLES! 128 (Asphalt Track) - Beverly, MA
Sat., November 7
Sign up starts at 9:00a, Practice 11:00a, Racing starts 12:30
Masters of Mini
PlanetMinis.com 'Pit Bike Event' Forum (constantly updated)
- - - Very active Pit Bike forum - - -
PlanetMinis.com > Forum > Pit Bike Event Forums
AMA Arenacross Series (2008-2009)
Pro & Amateur Pit Bike Racing
See link for schedule:
arenacross.com
RMR&ECM PIT X (2008)
Hemmond's MX — Minot, ME
Sun., May 11
Crow Hill — Templeton, MA
Sun., June 1
TBA
Sun., Jul. 13
TBA
Sun., Aug. 10
Twister Valley — Fort Plain, NY
Sun., Sept. 7
ecmmilitia.com
MiniMadness4 Pit Bike Racing (2008)
Major Sponsor: BBR Motorsports
Barona Oaks Raceway, OR
Sat., March 29
Registration 10:30p-12:30p, Racing 1:00p-6:00p
bbrmotorsports.com
TransWorld (Motocross mag.) Masters of Mini (2007)
ROUND 1
Marshfield Fairgrounds, MA
Supercross
Tues., Aug. 21
Registration 2:00p-3:30p, Practice 4:00p, Racing 5:00p-10:00p
ROUND 2
Rocky Hill MX Park, CT
Motocross
Sun., Sept. 30
Registration 9:00a-10:30a, Practice 11:00a, Racing Noon-6:00p
ROUND 3
Crow Hill MX Park, MA
Motocross
Sun., Oct. 21
Registration 9:00a-10:30a, Practice 11:00a, Racing Noon-6:00p
ROUND 4
Cycles 128, Beverly, MA
Asphalt Race
Sun., Nov. 4
Registration 9:00a-10:30a, Practice 11:00a, Racing Noon-6:00p
ROUND 5
Mototown USA, Windsor, CT
Indoor Finale
Sat., Dec. 8
Registration 8:00a-10:00a, Practice 11:00a, Racing Noon-10:00p
TransWorld Motocross Masters of Mini
NazzKart Indoor Pit Bike Racing (2007-2008)
Twin Falls, ID
Oct. 21
Nov. 18
Dec. 16
Jan. 20
Feb. 17
Mar. 16
Sign ups 9:00a, Practice 9:45a, Races start at 11:30a
Call for details: 208-733-RACE (7223)
LOG ROAD 4-stroke Pit Bike Series (2007)
LOG ROAD MX Park - Coldwater, MI
Practice starts at 4:30p, Races at 6:00p
May 19
Jun 23
Jul 14
Aug18
Sept 1
logroadmx.com

BooKoo® Arenacross Series (2006-2007)
Pro & Amateur Pit Bike Racing sponsored by MotoVert®
Nov 3-5 Fresno, CA - Selland Arena
Nov 10-12 Salem, OR - The Pavilion
Nov 17-19 Yakima, WA - Yakima Valley Sundome
Dec 29-31 Fort Worth, TX - Will Rogers Memorial Center
Jan 5-7 Reading, PA - Sovereign Center
Jan 12-14 Chicago, IL - Sears Centre
Jan 19-21 Fort Wayne, IN - Memorial Coliseum
Jan 26-28 Guthrie, OK - Lazy E Arena
Feb 2-4 Minneapolis, MN - Target Center
Feb 9-11 Uncasville, CT - Mohegan Sun Arena
racearenacross.com

METZfest III (2006)
Mike Metzger's Mini 4-Stroke (Pit Bike) event
Dec. 2 Menifee, CA - Wooden Nickel Ranch
podiumproductions.com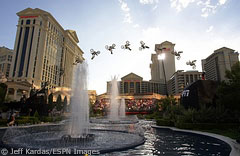 CLICK HERE to watch the video of Mike Metzger's world record back-flip/jump
over the fountains in front of Caesar's Palace in Las Vegas on May 4, 2006.

MotoVert® Mini MX Championship Series (Fall, 2006)
Mini 4-Stroke (Pit Bike) Racing Series
Sept 2 (ROUND 1) Hesperia, CA - Competitive Edge MX Park
Oct 11 (ROUND 2) Lake Havasu City, AZ - Crazy Horse Campgrounds
Oct 28 (ROUND 3) Lake Elsinore, CA - Lake Elsinore MX Park
podiumproductions.com
(note: Podium Productions puts on races every Saturday morning at Lake Elsinore MX Park.
START TIMES: Sign ups @8 am, Practice @9am, and Racing @10am.)

PLEASE CHECK THE INDIVIDUAL SITES OR CALL TO CONFIRM DATES, TIMES, ETC.